Best Men's Fashion Knitwear Brands In 2020
It's been a long while when men can now prioritize comfort over style. We've finally reached that time of the year where comfy, chunky, good looking knitwear is fast arriving at any of our favorite shops. So, if you're looking for a little more refined and all-out-comfort men's knitwear brands, then you're at the right place to dive in.

Every major menswear brand probably has tried its hand at a cable-knit jumper, but only a few got it like this. Kingsman's hand-knitted in a wool/cashmere blend, which is a lot comfier than a duvet day.
The latest preppy output from Aimé Leon Dore is some of the best you will find from the New York label. With its classic Fair Isle pattern, this sleeveless jacquard-knit cardigan with the cream of the crop is unapologetically nineties.
Thom Browne's Shetland knit is a pattern clash when paired with the wide tricolor grosgrain trim. With the brand's signature stripes to the sleeve, it evokes that will have your runway ready from the comfort of your sofa.
Uniqlo U applies luxury expertise to men's staples, and the knitwear tends to be the favorite of the show. With its details, the relaxed fit and raglan sleeves make this jumper on point

Jonathan Anderson's fisherman-style diamond knit does not only feature his favorite signature anchor logo, which is embroidered to the chest but sporadic embellishments of various colored yarns all over for a nice homemade feel.
With the super-soft alpaca-wool mix, this sage green hue jumper from Cos warms you up instantly. The V-neck and dropped shoulder jumper will give you a cozy look when going for a size up, which will be then hard enough to part ways when the sun shines back again.
From a bright yet bold tennis-themed summer resort wear, Casablanca has transitioned masterfully to wonderfully preppy ski-inspired winter knits and sweaters. This bottle green body and preppy contrasting trims are perfect under a puffer jacket for a peak Verbier vibe.
This poster boy for lazy-day knitwear, the shawl-collared cardigan, is perfected here by Inverallan. It gives a timeless chunky cable-knit and two handy front pockets that could be a great fall wardrobe addition of 2020.

One of the most versatile menswear is the lambswool blend ribbed knitwear from the Stone Island. Its affinity has more technical, urban styles, which infuses cozy credentials with a little more masculine edge and finished with anything pale grey for a solid wardrobe essential.
A luxurious shawl-collar cardigan is perfect to look as smart worn with an Oxford shirt and straight-leg denim. Without a doubt, the soft, warm, and stylish Tom Ford's Italian-made rib-knit in a cashmere/mohair blend is the best of the bunch.
The classic cricket-inspired V-neck with its signature green and red trims along the collar gets Guccified. With its cuffs and sleeves, this oversized timeless piece turns into a thing of high-fashion beauty, which can be smartened up with a shirt and a tie, or with a vest for a more casual flex.
Shop online at best prices in Tomtop.com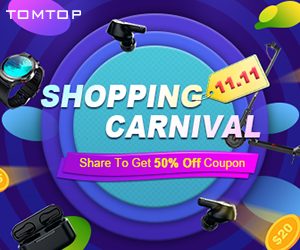 Tomtop is a reliable wholesale and retail online shop with Diverse & High Quality Products where you can buy Products at Best Price and Free Coupons! Visit Tomtop.com for video games, computer accessories, mobile phone accessories, clothing, home and garden items, jewelry, media player, car accessories, RC models & accessories and so on.
Tags :
Tomtop