Finding The Modern Day Suit That Suits You
The suit as we know it today can be traced back to its creator Beau Brummel who became the arbiter of fashion more than one hundred and fifty years ago. The dandy style of that era was later epitomized by artists such as David Bowie, Mark Bolan and Bryan Ferry of Roxy Music and became known as glam rock style. Many styles have evolved over the years, such as double breasted, three button, broad to narrow lapel and back again.
However the basic structured and shape of the modern day suit has changed little over the past one hundred years. We've been locked into repetitive style cycles of the original concept for many decades. Currently the two button single breasted with a more tailored silhouette is standard, with the younger generation opting for what is known as bum freezer. In this case the jacket is cut very short at the base of the torso, trousers low rise, similar to the old fashioned hipster with stove pipe trouser legs to complete the look.
Suiting was first commercialized on Savile Row, the oldest and most famous of all tailoring precincts in the world. Tailors started doing business there around 1803. With Henry Poole credited for creating the very first dinner suit. It later became known as the Tuxedo, named after Tuxedo Park in New York State, an American Indian term meaning moving water. Kings, Princes wealthy industrialists, Hollywood movie stars and rock music stars carved a path to Savile Row spending millions of dollars on luxurious suits made from the finest Australian Marino Wool.

In the early 60's Tommy Nutter opened for business in the early 60's financially backed by Cilla Black. He became famous for reinventing Savile Row. The first to have open window displays which caused some controversy, this practice was considered brash by old school tailor traditionalists who generally worked behind closed doors. Nutter dressed the Beatles for the famous Abbey Road album cover. Other clients include Mick Jagger, Bianca Jagger and Elton John.
Soon after Spencer Tracey passed away his long-time partner and confidant Catherine Hepburn travelled to Savile Row to pay a visit to the tailor that made Tracey's suits. She ordered a pair of tailor made denim jeans and unintentionally gave birth to the dress jean trend of the 70s. Based on this innovation Richard James another contemporary of Savile Row tailored suits made of selvage Denim woven in Japan.
Renowned Italian woolen mill and suit maker Zegna have been buying the best super fine Marino wool from Australia since 1910. Apart from their ready-made off the peg apparel, they receive 60 to 80 special orders a year for suits that will set you back $34,000. Zegna are carrying on the Savile Row tradition using the finest quality cloth available.

The demand for bespoke suiting has declined dramatically over the past three decades. The range of cuts and price point available in department stores is a major contributor to the decline in sales on Savile Row, with many tailoring firms having to downsize and tap into the mainstream ready-made market. Now one can purchase an off the peg Italian made suit in super fine Marino wool for under $2,000.
The modern day suit survives, however fewer men tend to wear them, opting for a more casual style. Large accounting and law firms have taken the step away from tradition and for many suit and tie is no longer a standard dress requirement for the office. Is this a good thing? I think not; it demonstrates a lack of self-discipline and self -respect. Men are easily swayed by office peer group pressure and will generally follow the crowd. Those who choose to step out and dress up are the long term winners, so suit up and get positive comments.
Shop online and get the best style and comfort with DAMART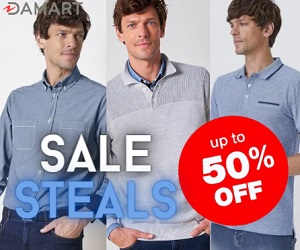 Damart is constantly adjusting its collections to inspire fun, vitality, innovation and care through its products and its customer relationships to offer stylish and comfortable clothing. Their new collections offer "trendy" styles, using materials with a sensual touch and ready-to-wear. They strive to deliver unrivalled quality, value and, most of all, excellent customer service. Find men & women's clothing, shoes and thermals at damart.co.uk and get the best deal that they exclusively offer on the store page.
Tags :
DAMART