Men's Wallet You Should Check Today
When looking for a new wallet, there are two things to consider: form and functionality. Although credit cards, apps for purchases are more common these days, cash isn't entirely obsolete yet. So, it's still suitable to find that one wallet that both fits your aesthetic and holds everything you need. So whether you need a small wallet, a larger one, or minimalist option, here are the best men's wallets to consider.
For a wallet that offers room for cards and cash, the Fossil Men's Ingram Leather Trifold wallet is our top choice. The wallet has a surprising amount of storage at just 4.25 x 3.25 inches wide. It also comes with four slip pockets, eight slots for credit cards, and a window for your ID card. The Fossil Men's Ingram Leather Trifold wallet was designed to secure everything you need.
Are you worried about getting your information stolen or about digital theft? The Herschel Hank RFID radio frequency identification) blocking wallet can give you protection from any of these. Criminals these days use RFID readers to steal information from credit cards, while RFID blockers work by using a Faraday cage, which distributes an electrostatic charge to protect credit cards from RFID reader's magnetic charges.

If you store lots of things in your wallet, a trifold style may fit better in your pocket than a bifold or billfold. Although trifold wallets are more common among women and fewer options for men in the market, Bosca stands out as one of the best men's wallet brands. It is made of smooth black napa leather with black stitching that accents the edges, which makes it look a lot masculine. Moreover, its interior is packed with enough space, including lots of pockets and five slots for credit cards, as well as an interior currency pouch.
For this wallet, less is more. Made from top-grain, sustainable leather, this Bellroy Slim Sleeve wallet is available in nine different colors. There's black, coco java, charcoal tangelo, navy tan, java caramel, tan, racing green, tangelo, and wine. And with its compact design, there's no reason to worry about your wallet sticking out from your jeans or jacket pocket.

If you prefer form over functionality, then Tumi's Monaco Double Billfold men's wallet is a great, high-end leather option. It comes with an embossed finish that has a versatile look, so whether you are heading at a fine-dining restaurant or to the gym, this will work.
It's about time to give your business cards a high-end home with MCM's Leather Card Case. The printed slim case with the famous monogram logo of the brand will easily match with MCM's belts, handbags, and other goods. With four slots for cards, the case is still small enough to throw on in any sized-workbag at 4 x 2.75 inches. Plus, it's also crafted from elegantly grained leather and coated canvas for more durability.
Shopping online is made easy at Zaful.com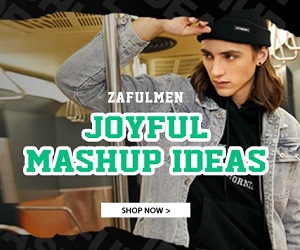 Online shopping for your streetwear and casual clothes are always easy at Zaful and they have ongoing special discount promotions for their latest arrivals of Menswear,  casual clothes, swimwear and accessories for Women and Men. Visit their online store page and don't miss their Sale Promotion only at Zaful.com.
Tags :
Zaful